I welcome you to Sarva computer shiksha Mission authorised study
 Centre and I am delighted that you are considering   undertaking a training programme at A.S.C.Of mission . We are pleased to Inform our that mission has long tradition of providing quality Computer education and facilities that are second to none; mission has a strong commitment to Develop computer professionals. We have a team of well qualified and experienced computers Trainers who pay attention to their students, studies and that is what markes us different .We are Student  centric and respective to their needs, requirements and aspiration.Our experience in conduction these training Programmes for more than a decade and The wide acceptance of these programmes by the industry has encouraged us to become multi-dimensions and versatility in terms of our approach and objectives .I am confident of will gain good benefits from our training programme.I wish you every success in your studies and your career.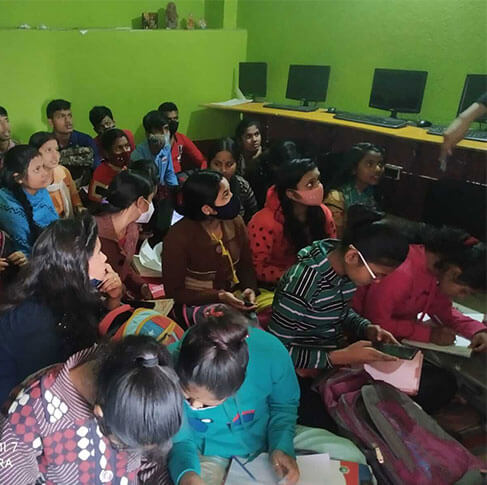 The examination will be held two times a year by the authorised study centre.  will be eligible to appear for 11- semester examinations only after six months of the successful completion of 1- semester.
Ø Examination will be conducted two times in a ear at your SCSM centre.

The pattern of exam will be objective type which has to be answered in the answer sheet only.

Details ID. Dates of examination. Timings /session will be according to the annual planner sent to all the centres at the beginning of the session. And alshow published to our website time to time.

Students can download there admit card from missions website.

The duration of examination will be 1 hours & 3 hours.

Question paper comprises of 25 questions from each module and each question carries 2 marks.

Practical Exam will carry total 100 Marks, 60 Marks for lab Practice & 40 Marks for Viva.
Student can check there result on our website scsmindia in after declaration of result.

Mark-sheet / Certificate will be dispatched within 25-30 days of receiving answer booklet of the students at the H.O .
Certificate / Diploma will be awarded will be awarded by Sarva computer shiksha   Mission only after the successful completion of the course which will be valid for employment all over India .
Guidelines For Authorized Learning Centre /Franchise

SCSM (Sarva Computer Shiksha Mission) is a Mission to literate the masses in Computer Education .For This great mission Sarva Computer Shiksha Mission requires thousands of people. No great mission can Be fulfilled without the participation of  the maximum number of the peoples .No caption can win alone without his team.First of all on Sarva Computer Shiksha Mission we must thank you and appreciate you For you kind interest in Franchise enquiry of Sarva Computer Shiksha Mission .if you want to have Franchise in any District , City, Village or Area, all over India then as per the requirements you must have 3-10 Computers in your computer lab , sufficient place For the training of minimum 100-150 students (170-500 Sq. feet approx.)  One practical room, one reception, one office , also a library   with 50 Books. To get affiliation Institute should have to Submit an application form ( www.scsmindia.in)  Apply on Line.
Business is at the heart of everything we do
Rise is a organization dedicated to help people finding inspirational ideas, get better perspective about almost all topics, usually in the form of short and powerful talks. Rise is a organization dedicated to help people finding inspirational ideas, get better perspective.
Frequently asked questions
Agreement Paper.

SCSM Authorized ASC Certificate.

Information Brochure and Registration form.

Institute detail on our official website www.scsmindia.in

Website login to manage online registrations, exams and accounts.

Flax (without frame) of size 6 x 3 with ALC Branding.

Sample Admit, Certificate, I-Card, Book, Etc.
SCSM provides single source for quality assurance in computer education among the nations's non-formal Institutes, After turning out competent IT professionals in large numbers. SCSM aims to provides maximum Benefits to ALC and Students with quality .
INSTITUTE BENEFITSs                                                                                            
Sarva Computer Shiksha Mission Offering Franchise Scheme
NO FRANCHISE FEES.

NO INSPECTION FEES

NO HIDDEN FEES

ONLY REGISTRATION FEES 10.000 /- (Not refundable.)
        On line record Maintenance / Login.
       Student registration Online Verification.
 Best Fees Structure.

Legally Document Supported.

SMS Marketing Supported.

Email Marketing Supported.

Media Advertising Supported.

Other's Advertising Supported.

All India Valid Certificates.

Lowest course fees.
      Since we are examination body we do not share from course fees given in Prospectus. Only Registration and exam fees will be charged by the ALC. High- standard and navigation friendly course materials, question papers, innovative and industry friendly course structure .Training Support for your Faculty, counsellor and marketing team. Automated tools for tracking your business in a single portal that will help you  analyse , monitor and manage your growth. A transparent and user friendly single window online portal for all transactions and Operational inputs. Placement assistance.
Autonomous Institute Registered Under The Indian Trust Act, Govt. Of west Bengal.

Registered Under MSME Govt. Of India

Registered Under NCT New Delhi ,

Registered Under (C .R .Act, ) Govt . of India

An 9001:2015 Certified Organization

 
Quality education provided at very affordable charge.

Online and Offline exam at your ASC.

Certificate after the completed of course.

Value added on services like personality developments, Multilanguage learning.

Free Live project Training for Scholars.

Free placement assistance. 

At present the whole world is moving towards development, in this way the role of computer education is most important. Computer education will become more useful in recent times. We can feel the need for computer in all cases.